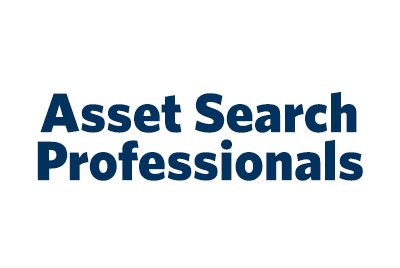 Asset Search Professionals
Unclaimed Property • Ft. Lauderdale, Florida
Asset Search Professionals reunites owners with their missing assets. These commonly include unpaid wages, non-refunded deposits, unclaimed rebates, lost stocks, or forgotten bank accounts. Our firm is authorized by the State of Florida to contact individuals and companies to process their claims so they can receive monies that are rightfully theirs.
Asset Search Professionals is a division of Florida Investigative Network, Inc., a private investigative agency licensed by the Florida Department of Agriculture & Consumer Services since 2004. Asset Search Professionals has PI agency license #A1300068. Both companies can be verified by going to www.sunbiz.org, and licgweb.doacs.state.fl.us.  Asset Search Professionals is organized as a DBA owned by Florida Investigative Network so people would not be confused when we contact them. We are also members of the Florida Association of Licensed Investigators.
The president of Asset Search Professionals is Mark McCarthy, a licensed private investigator in the State of Florida since 2004 and a licensed insurance adjuster for more than 20 years. In these roles, he has undergone security investigations by the U.S. Securities & Exchange Commission, the U.S. Federal Bureau of Investigation, and numerous state bureaus of investigation.  He has located thousands of individuals for insurance companies, law firms, and various businesses.  Mark has been a member of the Broward County Consumer Protection Board since 2002. He is an arbitrator for the Financial Industry Regulatory Authority and has served on numerous other boards.
The director of Asset Search Professionals is Cara Pavalock, an attorney licensed in Florida and Connecticut. She reviews all forms, letters, and company policies for adherence with Florida law. She and Mark have been treasurers of several organizations as well.
So, you received a letter...
If you received a letter from us, it is 97.5% certain that you are owed monies currently held in escrow by the State of Florida. It could be past wages, stocks, a utility deposit, or a rebate, among other assets. Corporations holding such assets are required by Florida law to conduct a financial audit to review such assets not returned to their owners.
If the corporation cannot find the rightful owner after a search, the asset is transferred to an escrow account operated by the State of Florida. Our team at Asset Search Professionals has undergone an extensive background investigation and security clearance.  We have been fully vetted and certified by the state to contact individuals and companies to claim lost assets in a legal and confidential way.
If you received a letter from us, we were able to match your former address with your current residence. Attached to that letter is a form that the State of Florida requires you to fill out. Please complete the form, and mail it to us as soon as possible.  Upon receipt, we'll immediately process it for the State of Florida.
There may be special circumstances such as the death of the owner or a change of name through marriage or divorce that will require additional forms. If that is the case, please contact us and we can provide you with the appropriate forms.